Recently, there have been several surges in the trading card market, Pokemon, Yu-Gi-Oh, and MTG. It seems that the resurgence in nostalgia has caused the value of these cards to skyrocket. This gives me hope for the generations who grew up with these cards. Maybe we have found a way to turn our hobbies into cash or we have a newfound love of these games. Either way, hobbyists have a use for all of the knowledge that we have saved up in our heads about something that we really didn't think would be used beyond the game itself.
As a Magic the Gathering collector and player, I tend to keep track of the prices and market for trading cards. I've been incredibly surprised lately at how much they have gone up and down in value. I have speculations about why the huge flux has been happening in this media. I believe that with all of the people stuck at home, maybe cleaning things out and organizing that others have found these huge collections that were so carefully curated and are looking to liquidate them.
The prices for some of the original Pokemon cards are huge right now. The Charmander evolutionary line is so sought after right now that these cards are worth tens of thousands. It's Charizard. Yes, the Pokemon dragon that millions of kids were chasing back in the day. A 1999 Pokemon 1st Edition Charizard Holo graded BGS 10 sold for $55,650 on eBay, according to reporting on the sale.
Charizard Pokemon Card – Mint Condition
Pokémon
$67,500.00 + $6,615.00 estimated tax.
The Pokemon card craze started with the franchise being created by Satoshi Tajiri in 1995. In celebration of its 25th anniversary in 2021, the upcoming core series games, Pokémon Brilliant Diamond and Shining Pearl will be released in late 2021. This might be a driving force for the upwards trend in the value of these sets.
This card is known to be the most sought-after card in MTG. The prices for an original mint one of these is staggering. On February 27th, 2019, a "Gem Mint 9.5 grade" Beckett Grading Services graded Alpha Black Lotus was bought on eBay for a record $166,100. On January 27, 2021, a "Gem Mint 10 grade" was sold for $511,100
Black Lotus – Unlimited Edition – Used
Wizards of the Coast · Magic: The Gathering
$23,500.00 +$2,303.49 estimated tax.
Because of the money drought that some of us find ourselves in lately, I am of the mind that collectors are selling these highly sought-after playing cards. With the uncertain markets and maybe a little bit of the small guys trying to stick it to the man in this completely unregulated market, the value placed on these cards has nothing to do with stocks or bonds. Just pure enjoyment and having a community that has the same interests. Some of these cards are so rare that it's impossible to get them anywhere unless you started your collections right when the game was released. I have been fortunate enough to be playing for long enough to hold a Black Lotus in my own hands. According to the Comic Book Review website, there were roughly 22,800 Black Lotus cards ever printed, though that's using a rough estimate based on the total number of cards released in the Alpha, Beta, and Unlimited Sets.
I did not expect Yu Gi Oh cards to be up there as high as Pokemon or MTG. In my research, I did come across communities that are sometimes even more fanatical than Magic players. These cards are highly sought after and the rarity has shown me how highly this game was played in the early years. I feel like the 90's and 2000's nostalgia resurgence has driven the prices way up. Reaching back into our childhood when things were simpler.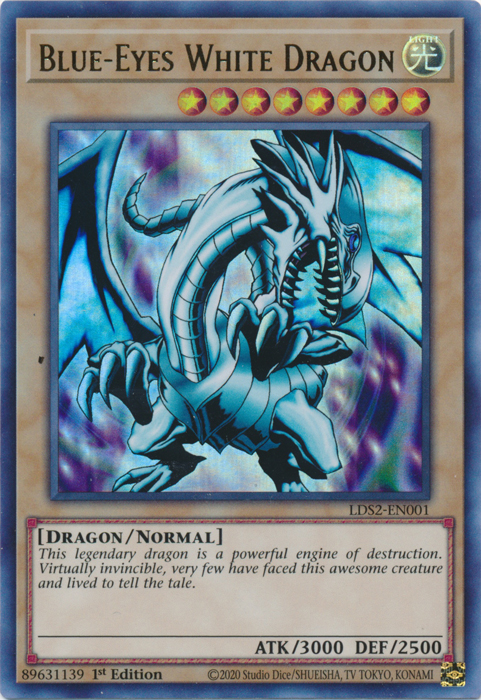 2002 Yu-gi-oh Blue Eyes White Dragon 1st Edition Sdk-001 – Psa 9
$12,999.99. +$1,274.00 estimated tax.
These cards have probably been sitting in a binder, protected with plastic sheets for years. Pages and pages of perfectly kept card stock. Some of us might not even know how good we have it when going through these carefully picked collections.
I am a huge advocate of having your cards graded if you have any interest in selling some of the cards in your collection. The grading system seems to be the way to go when getting exactly what a card is worth.
With several grading services out there I have found a couple of services that you can go through.
The first is https://www.psacard.com/services/tradingcardgrading.
The second is https://www.beckett.com/grading/compare-our-services.
These sites will walk you through the grading process and tell you the best option for what you have.
I keep track of my collection through the deckstats.net program. Keeping my collection up to date and organized has become a priority and with this program, I am free to put them in the system and keep track of edition, condition, set, number, and even make specific notes about the cards. It also lets you see the current market and sell prices. This site also gives you the option to share your collections online, letting you see options for trades, and selling right there.
It certainly seems like a seller's market right now. If you have been hemming and hawing about selling or just seeing what you've amassed over the years, these sites are going to be helpful. You might have something stuck away in the closet that is worth a new car or college tuition. I love knowing that some of the things that I was made fun of for playing and collecting are coming back with a vengeance. With these cards being bought and sold on an unregulated market, they used to only have the value that we as players put on them and what they mean to our collections. Now they are worth more than we ever could have imagined in the game's infancy.